engage employees, build a spirit of teamwork, and increase morale
More and more, employees and customers are attracted to companies that are committed to the community and create opportunities for them to connect with the causes they care about most.
Workplace giving programs are a great opportunity to engage employees, build a spirit of teamwork, and increase morale all while making an impact on the community.
Provide safe in-person and virtual giving opportunities that employees can feel good about.
Build culture and leadership
Build you company culture and opportunities for leadership development and teamwork.
Educate employees about the local challenges we face and how they can help solve them.
Support your Corporate Social Responsibility goals and show your commitment to the community.
Offer volunteer opportunities
Offer individual and team volunteer opportunities to further engage employees and see your impact in the community grow.
An annual workplace giving program is a great way to engage employees and connect them to your CSR program and values.
Giving to United Way makes a difference. Employees who give are making an investment that benefits the entire community, not just one program, issue, or population. This leads to a stronger, more sustainable place to live and work.
Support from your workplace giving program makes it possible to find innovative solutions to the root causes of our most pressing needs. United Way leverages these contributions by combining them with others and strategically investing in programs and initiatives to maximize the impact for the community. Spreading giving throughout the year via employee payroll deduction or mobile giving makes it easier to increase someone's donations while still staying within their personal budget.
Giving + volunteering = homerun
You can multiply the impact of a workplace giving program by engaging employees in volunteering. In fact, companies see a 57% reduction in turnover among employees who engage in both volunteering and workplace giving. In addition, many professionals at our workplace giving partners choose to engage with United Way on their own time, joining a giving society or affinity group.
The value of volunteering
For many businesses, offering employees volunteer opportunities conveys the importance of social responsibility to staff and the public, as well as strengthens teams and build a culture of service. United Way of Rhode Island's volunteer project consulting service curates on-site or off-site activities to:
Improve teamwork
Build camaraderie
Benefit the community
Volunteer program concierge service
As your project consultants, United Way's volunteer coordinators work to determine your exact service goals, then create a personalized plan to match. We specialize in:
Developing a sustainable, in-house volunteer framework
Customizing onsite, offsite and virtual service projects -- both episodic and ongoing
Connecting you with a growing network of businesses and nonprofits that are changing lives in the Ocean State
Identifying skills-based volunteer opportunities for individuals and small teams
Start a workplace giving program. It's an easy way to build culture and community engagement.
United Way of Rhode Island will partner with you to develop a customized workplace giving program that aligns with your corporate values, as well as the interests of your employees. We will provide guidance and support to assist you in building your fundraising team and running an effective giving and volunteering program.
For more information, contact Jessica Barry at jessica.barry@unitedwayri.org.
Five Questions With: Roshni Darnal
Providence Business News
Roshni Darnal is the director of community investments for United Way of Rhode Island... where she manages the organization's strategic direction to address the needs of Rhode Islanders through its grantmaking processes… Darnal spoke with Providence Business News about those grantmaking changes and what it means for the nonprofit community moving forward.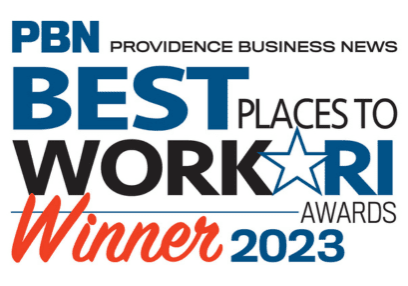 PBN announces 2023 Best Places to Work honorees
Five Qs With: Anthony Botelho
Providence Business News
Anthony Botelho serves as senior vice president of commercial banking and team leader for the commercial and industrial group at The Washington Trust Co. He was recently appointed to lead the bank's commercial lending growth in Connecticut, where the company recently opened a New Haven commercial lending office. Anthony also serves on United Way of Rhode Island's Board of Directors.
United Way of Rhode Island is excited to announce that the Rhode Island Afterschool Network (RIAN) will expand its efforts effective October 1, 2023 with Rhode Island Foundation serving as its fiscal sponsor.
You're invited to join us as we celebrate another momentous year of making history, sharing stories, and honoring those who are making big moves in our small state.
Wednesday, Oct. 18, 2023 | 5:30 – 7:30 p.m.
Farm Fresh Rhode Island, 10 Sims Ave., Providence
This event is free and open to all. Registration is required.
For more information or assistance, email events@unitedwayri.org.