Partnering with local nonprofits to achieve our strategic goals
We're investing in nonprofits doing great work in our areas of focus.

The request for proposals (RFP) for our 2023-2026 Community Impact Fund Grants is now closed.
A total of $3 million in annual funding is being made available to nonprofits across the Ocean State. The grants will be awarded from United Way of Rhode Island's Community Impact Fund to nonprofit organizations whose work advances our mission of building racial equity and opportunities for all Rhode Islanders.
The request for proposals (RFP) period is now closed. We expect to announce grantees by late May.
For more information, click on the links below to see our FAQ or to register for information sessions and virtual office hours.
Sponsorships
We provide sponsorships for events and organizations on a limited basis. If you have an event or program and are looking for sponsorship, please fill out the sponsorship form at the link below.
1. Will all three focus areas (Achieve, Advocate, and Lift United) be equally funded? 
We don't have an expectation to fund the three areas equally. Our goal is to fund organizations and programs that fall within each of the pillars but also to have a diverse group of grantees. As United Way of Rhode Island continues its own equity journey, we are committed to centering racial equity, BIPOC-led organizations, and organization committed to equity in both word and praxis. Ultimately, the final number of grantees will depend on a number of factors: requested amount, geographic location, the proposed communities they plan to serve, proposal scores, etc, to make sure this funding leads to impact throughout the state and for different communities.  
2. Who will be part of the review committee? 
The review committee will be comprised of United Way of Rhode Island's Community Impact staff, fundraising staff, members of the Community Impact Committee (external volunteers that help United Way inform grantmaking strategies, from different industries and expertise), volunteer members of our Community Advisory Board, and donors. 
3. Do we need to submit eligibility documents? (501c3 letter, audit, etc) 
Evidence of 501c3 status must be provided at the time the application is submitted. Any other supporting documents such as letters of support, fiscal sponsorships, etc. can be uploaded as part of the application as well. 
4. Can we upload video as a supporting document? 
You won't be able to upload a video, but you may submit a link to a video hosting site. The 
reviewers will receive an electronic copy of the application so they are able to access links. 
5. Should the budget reflect the entire project or the funds allocated from United Way? 
This funding opportunity supports General Operating Supports, which means these funds are fully un-restricted and we trust you to use the funds where it's needed most in your organization. However, applicants may choose to apply the funds for program or project support.  You will only have to break down the expenses that you plan for the United Way Funds. 
6. Is there another step in the process after the application? 
We are not anticipating another step in the process. There might be some follow-up calls or emails after the application closes and during the review period, but that will be determined on a case-by-case basis. 
7. When will grantees be notified and awarded? 
The complete application is due on January 27, 2023, at 11:45 p.m. and we are hoping to notify awards on or shortly after April 11, 2023. The funding period for this funding opportunity is July 1, 2023 through June 30, 2026.
8. If we are applying for Operating Support, should we list the internal outcomes of the specific investments we will make through United Way of RI funding, or the overall organizational outcomes we will be able to achieve?
Regardless of how your organization plans to utilize the awarded CIF funds, we are interested in how the overall work of your organization leads to impact. By impact, we mean changes in programs, practices, and policies that help drive equity and social change. 
During the application process, each applicant will be asked to indicate the activities that they will engage in during the course of the grant and the anticipated outcomes they hope to achieve as a result of this funding opportunity. 
9. Can we send the application to another staff member/grant writer within our organization?
Yes, you are able to work with another person in the application. You can click on the "Collaborate button" (top right) and enter the email of the collaborator. You, as the main grant contact, can choose the level of permission for the collaborators.
10. Who do we contact for help with the portal?
You may contact Millicent Springer at millicent.springer@unitedwayri.org. 
United Way of Rhode Island staff will hold three 90-minute information sessions on
• Dec 13, 11 a.m. - 12:30 p.m.
• Dec 13, 1 - 2:30 p.m.
• Dec 16, 1 - 2:30 p.m.
• Dec 19, 9 - 10:30 a.m.
The information sessions will provide an overview of United Way of Rhode Island's Live United 2025 strategic plan, the current Community Impact Fund grant opportunity, a walkthrough of the grant application platform, expectations with respect to evaluation and learning, and an overview of the application process and anticipated timeline. There will also be time for a Q&A with United Way of Rhode Island staff. Click here to register.
In addition to the information sessions, staff will hold virtual office hours via Zoom at the following times:
• Jan. 5, 10 - 11 a.m.
• Jan. 5, 2 - 3 p.m.
• Jan. 9, 3 - 4 p.m.
• Jan. 10, 1 - 2 p.m.
• Jan. 1, 10 - 11 a.m.
• Jan. 11, 1 - 2 p.m.
• Jan. 13, 11 a.m. - 12 p.m.
There will be no formal presentation during these times. Staff will be available to answer questions about application content, the platform, and/or the process. Register here in advance to attend one or more of these office-hour sessions.
United Way of Rhode Island makes grants consistent with our mission: Uniting our community and resources to build racial equity and opportunities for all Rhode Islanders. We are committed to leveraging all of our assets (i.e., advocacy, convening, fundraising, strategic investments, and awareness building) to create a more equitable Rhode Island. Much of our work is done in collaboration with grantees and other partners. We strive to engage with our grantees and partners in a spirit of trust, candid communication, and transparency. Our collective efforts also depend on the support and resources of governments, the private sector, communities, and individuals.
We primarily make grants to 501(c)(3) public charities. We also make grants to support organizations or projects that work with qualifying fiscal sponsors. We do not make grants to individuals or for scholarships. It is also rare for United Way of Rhode Island to fund capital projects.
United Way of Rhode Island supports a diverse set of grantee partners across our program areas. See examples of recent grantees here.
For each round of grants, we issue a request for proposal (RFP) that outlines the work we are funding, the amounts of grants, the application process, and how we measure and evaluate results.
United way's strategic pillars
From 2021 through 2025, United Way of Rhode Island's investments and work will be organized around the four pillars and respective focus areas outlined in the LIVE UNITED 2025 strategic plan.
Our "Achieve United" pillar is about advancing childhood learning. Its focus is early childhood literacy and out-of-school time learning programs.
Our "Advocate United" pillar is about driving public policy. Our areas of focus include state and municipal policy, advocacy and research.
Our "Lift United" pillar concerns building economic security, including housing, workforce development, and adult education.
Our "Invest United" pillar involves expanding philanthropy. It's focus areas include nonprofit capacity building, resilience and diversity.
Additional funding and capacity building support
United Way of Rhode Island's strategic goals include both increasing the number of Rhode Island nonprofits in stable financial condition and increasing the amount of Rhode Island households that contribute to charities. We raise millions of dollars a year for local nonprofits via our workplace campaigns and 401Gives. In these programs, donors designate gifts for the qualifying nonprofits of their choice.
Workplace campaign donors may select any 501c3 and nonprofits do not solicit gifts; learn more about our workplace campaigns here.
Nonprofits elect to participate in 401Gives and may actively solicit designated contributions; learn more about raising money via 401Gives here.
Designated funds from workplace campaigns are distributed through our agency portal and 401Gives through the GiveGab dashboard. Agencies may reach the agency portal the login link at the top of our webpages. 
Our capacity building support includes mobilizing volunteers, professional development (notably, the Executive Director Learning Circle), and the Grantmakers' Council and other resources.
Five Questions With: Roshni Darnal
Providence Business News
Roshni Darnal is the director of community investments for United Way of Rhode Island... where she manages the organization's strategic direction to address the needs of Rhode Islanders through its grantmaking processes… Darnal spoke with Providence Business News about those grantmaking changes and what it means for the nonprofit community moving forward.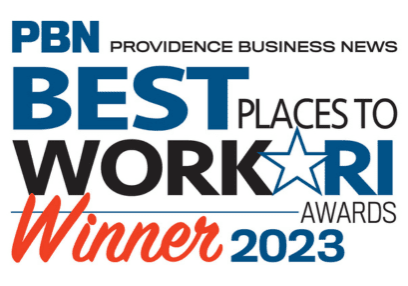 PBN announces 2023 Best Places to Work honorees
Five Qs With: Anthony Botelho
Providence Business News
Anthony Botelho serves as senior vice president of commercial banking and team leader for the commercial and industrial group at The Washington Trust Co. He was recently appointed to lead the bank's commercial lending growth in Connecticut, where the company recently opened a New Haven commercial lending office. Anthony also serves on United Way of Rhode Island's Board of Directors.
United Way of Rhode Island is excited to announce that the Rhode Island Afterschool Network (RIAN) will expand its efforts effective October 1, 2023 with Rhode Island Foundation serving as its fiscal sponsor.
You're invited to join us as we celebrate another momentous year of making history, sharing stories, and honoring those who are making big moves in our small state.
Wednesday, Oct. 18, 2023 | 5:30 – 7:30 p.m.
Farm Fresh Rhode Island, 10 Sims Ave., Providence
This event is free and open to all. Registration is required.
For more information or assistance, email events@unitedwayri.org.