Corporate social responsiblity
Meet your CSR goals with a United way Shared purpose program
Top organizations use corporate social responsibility as a strategic differentiator to attract and retain the best talent and to meet their customer's demand for social responsibility.
Studies show that purpose-driven companies produce higher revenue, recruit and retain higher-performing talent, improve employee engagement and performance, and have higher values associated with their brand. Let us help you join them.
United Way of Rhode Island helps companies develop and achieve their corporate social responsibility goals. Achieving a stronger, more vibrant and prosperous community is our shared purpose. Companies partnering with United Way through shared purpose co-create greater value through impact, engagement and reputation.
Doing good and doing well
Organizations with well-developed corporate social responsibility programs reap many benefits, including:
Attracting and retaining the best employees
According to Harvard Business Review, social responsibility is one of the top five intangible benefits that potential employees look for when evaluating job opportunities. In fact, 79% of people prefer to work for a socially responsible company.
Building stronger leaders
Human resources professionals overwhelmingly agree (90%) that pro-bono volunteering is an effective way to develop leadership skills.
Creating more loyal customers
Consumers are increasingly steering business toward companies that are socially responsible. According to a 2015 Cone study, 90% of global consumers are likely to switch brands to one associated with a good cause, given comparable price and quality.
Building goodwill in their communities
Building strong ties in the communities in which they do business can help an organization weather storms and build loyalty.
For companies of any size
United Way of Rhode Island's relationship with the state, corporate, nonprofit, and public sectors uniquely positions us to provide insights, solutions, networks and consulting services that bring value to companies of all sizes.
For small to mid-sized companies, Shared Purpose represents the ability to effectively outsource their CSR to an expert who can help them level-up quickly.
For large companies, it adds depth and scale to the impact they make around the world. All while supporting their bottom line and business plan.
We have been partnering with small and mid-sized businesses who want to have a greater impact with their charitable giving for 95 years. United Way makes it easy to get involved – no matter the size of your company — with turn-key programs including volunteerism, sponsorship, leadership opportunities, networking and workplace giving programs. We tailor your experience so that you and your employees can have a direct impact on the things you care about most.
Corporate Social Responsibility Consulting
Partner with United Way of Rhode Island to identify, analyze, activate, and communicate your impact in the communities where you live and work.
Whether to support your community, foster a culture of service with your team, or simply enhance your brand, United Way of Rhode Island offers tools and strategies to create effective CSR practices.
United Way Rhode Island will help:
Mapping your CSR vision
Storytelling and crafting your CSR message
Activating your company's social purpose and CSR activities
Implementing focused and strategic programs in impact giving, employee engagement, and brand and reputation elevation
Social impact measurement and reporting
Ready to learn more? Contact Lanre Ajakaiye at lanre.ajakaiye@unitedwayri.org.
Partnering with United Way of Rhode Island is an effective way to engage with the community, meet corporate social responsibility goals, and show the community that your company cares.
Through United Way's 211 in Rhode Island and our policy, research and grantmaking activities, we can provide critical data and insights into community needs. Partnering with us means knowing you're making a difference where it's needed most. Our information can inform decisions from hiring to facility location to community programs. United Way staff is available for consultations and presentations to your teams. In addition, our monthly newsletters keep your employees up to date with community issues and what we're doing to address them.
Responding to the needs of the community can be difficult, expensive and time-consuming work, so let us help you. With United Way serving as the philanthropic arm of your company, you can focus on business while still making difference. We provide grantmaking services, advice, and impact information that'll make it simple for you to help the community.
Making an organization-level gift to United Way shows employees and customers that you're doing something about making Rhode Island a community where every individual in each community has equal opportunity for justice and prosperity. When you partner with United Way, you'll join the state's leading companies, nonprofits and labor unions.
Corporate giving to favorite causes is quick and easy for you and your team through MyFund. Through this custom on-line platform, streamline your giving — issue and track your gifts to charities all in one place. Best of all, not only does UWRI send out the checks for you, you'll also receive just one tax receipt at the end of the year for all of your corporate giving. Learn more about this great tool for companies and individuals here.
We're making Rhode Island a safer, more equitable place for all... regardless of race. There's a lot of work left to do; let us help you get started.
Workplace giving is an easy and effective way to engage employees, build a spirit of teamwork, and increase morale, all while making an impact on our community's most important issues. Employees can help solve these problems and their root causes by making a one-time gift or giving through payroll deduction. Learn more
Improve employee morale and visibly meet CSR goals while making positive change happen. Volunteer opportunities range from Day of Action community projects to custom team-building workplace volunteering to year-round individualized volunteer project matching through our Volunteer Center. Employees who volunteer feel better emotionally, mentally and physically, studies show.
Differentiate your brand in the market by telling your story of impact and engagement in the communities you serve.
Make the most of your marketing budget by sponsoring United Way events and programs. We can customize sponsorships that meet your investment goals and align with your marketing priorities and position you in front of the audiences you're trying to meet.
Align your brand and your business with a mission that reflects your values and double your impact by engaging your customers.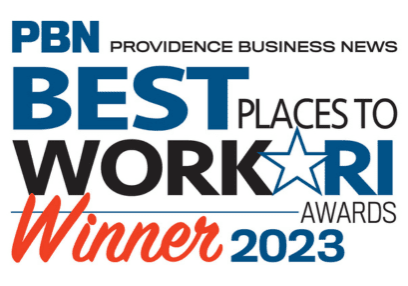 PBN announces 2023 Best Places to Work honorees
Five Qs With: Anthony Botelho
Providence Business News
Anthony Botelho serves as senior vice president of commercial banking and team leader for the commercial and industrial group at The Washington Trust Co. He was recently appointed to lead the bank's commercial lending growth in Connecticut, where the company recently opened a New Haven commercial lending office. Anthony also serves on United Way of Rhode Island's Board of Directors.
Rethinking how one of R.I.'s largest nonprofits can grow
The Boston Globe
In October, [Idrees "Lanre"] Ajakaiye was appointed the new chief development officer at... United Way of Rhode Island where he'll be in charge of helping... United Way achieve its current strategic plan, which outlines the nonprofit's investment of $100 million over five years to help achieve racial equity.
With a focus on achieving the goals of its LIVE UNITED 2025 plan to build racial equity and opportunities for all Rhode Islanders, United Way of Rhode Island is investing $10 million in the work of community organizations over three years. These latest grants have been awarded from United Way's Community Impact Fund and received by… 45 local nonprofits.

Join us at the Rhode Island Convention Center for the area's premier youth and family workforce development and career awareness event.